Crypto Backtester Pro
Find the best automated trading strategies. For your trading bot.
Full Support
If you have any questions, feel free to contact us!
Products
Showcase your products in this beautiful shop section.
Pro version. 365 days subscription.
Unlimited version for absolute power Backtesters.
Choose your subscription plan
We offer you the best subscription plan to your needs.
Trial Version
€0
1 strategy combinations
2 supported charts
100 supported tests
Limited parameters available
Limited supported statistical results
Limited visualize results graphically
Limited customer support
Free Download
Pro Version
starting from ONLY €49per month
All supported strategies and indicators
Unlimited amount of charts
Unlimited amount of tests
All parameters available
All supported statistical results
Fully visualize results graphically
VIP customer support
Order Now
What clients say
People that are using our products are happy to share their experience.
This is an absolute great Add On for Profit Trailer. I was looking for something excatly like this since I had no idea how my strategies would even perform. Live Papertrading inside Profit Trailer takes far too long. You solved this! Thank you! Hermann K.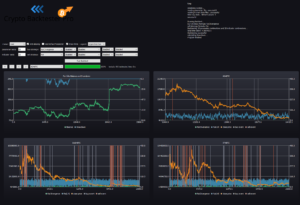 "We can finally trade our whole portfolio with very low risk. Its actually even lower than just holding bitcoin thanks to high diversification and eliminated leverage liquidation. Thanks Embedded Solution Team, you made great work!" Stefan S.
Get in Touch
You need more information about us?
Find us at the office
Embedded Solutions
Inh. Robert Ledwig
Gensinger Straße 76
10315 Berlin, Germany
USt-IdNr.: DE326049204
Contact us
info@embedded-solutions.org